Discover Power Automate RPA Insights in Power Platform Admin Center
---
#ServerlessTips - Power Automate
The Power Platform Admin Center includes analytics for Power Apps, Microsoft Dataverse (formerly Common Data Service) and Power Automate. However, up until recently, the Power Automate analytics were only related to API Flows.
Power Automate Analytics provides administrators with the ability to discover the number of flow runs, the type of flows running, who is creating them, flows that contain errors and what connectors are being used. The data found in these reports is from the past 28 days and is captured for each environment in the tenant.
Up until this point, the Power Automate analytics didn't include any details related to RPA processes that were being built inside an environment. For RPA Centers of Excellence (CoE) it is very important to have visibility into the state of your RPA processes.
As of this writing, there are 3 RPA reports available to us including: Runs, Usage and Created. Let's now take a look of each of these reports in more details
Runs
Within our Runs report we can see our executions trend by day, week and month for a specific environment. In addition, we also can filter based upon the type of UI flow, including Power Automate Desktop and whether the runs were based upon attended or unattended mode.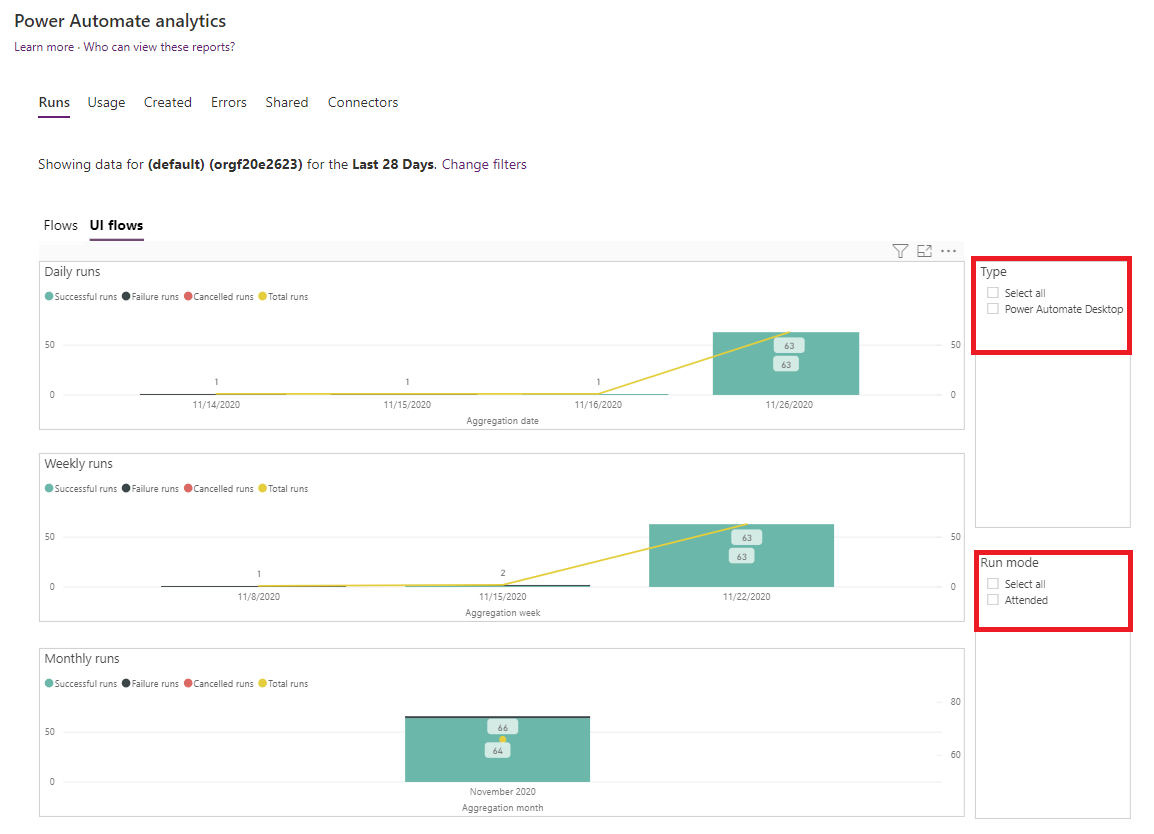 Usage
In the Usage report, we will be able to see the type of UI Flows that are being created and by whom. We also can determine which of our flows are Attended or Unattended.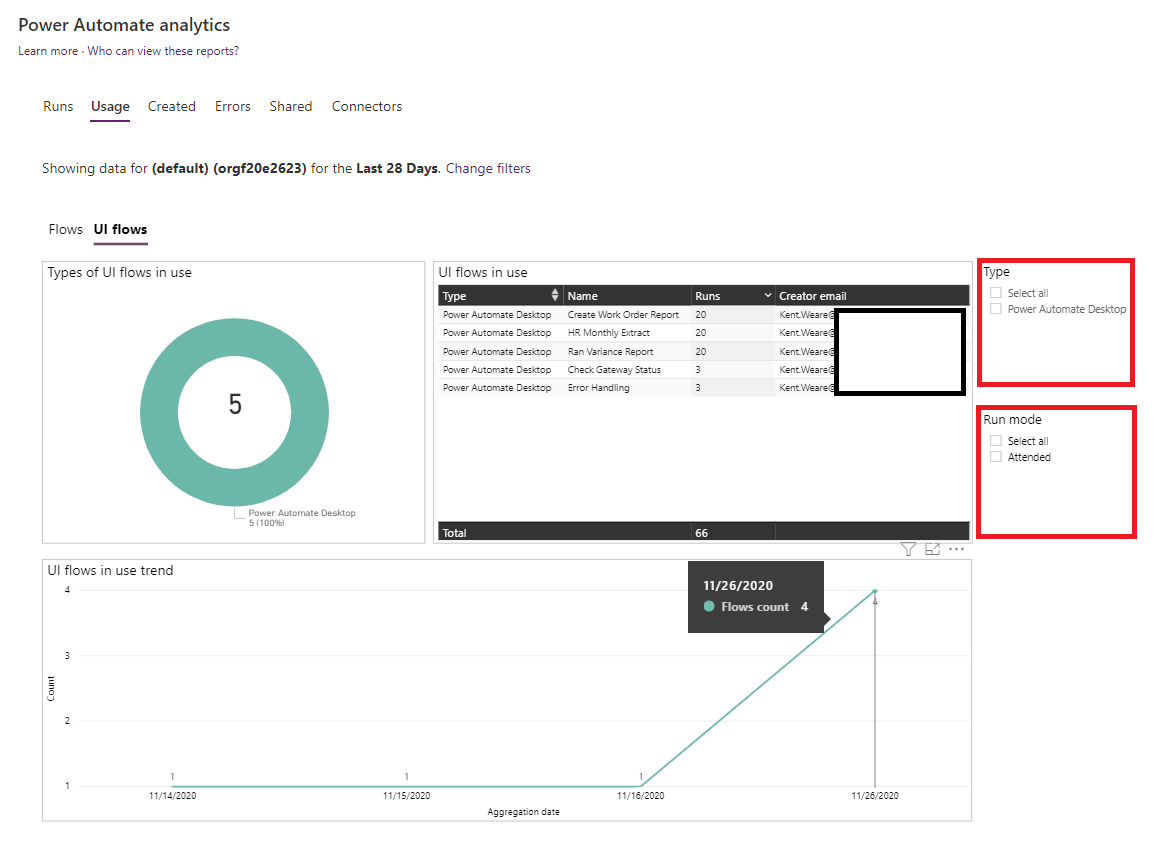 Created
In this view, we will discover who has created UI Flows within our selected environment in the past 28 days. As part of our filters, we can also determine the type of UI Flow it is including processes created in Power Automate Desktop.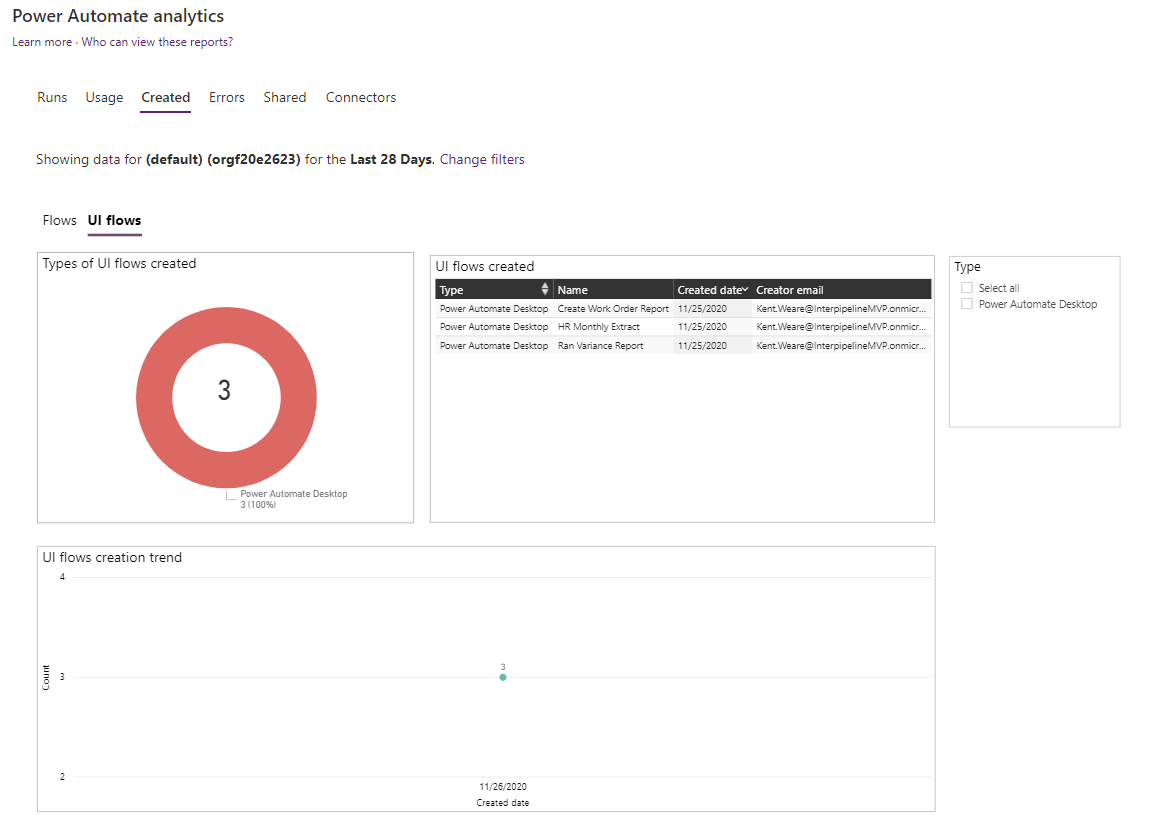 Conclusion
The Power Platform Admin center is a good place for administrators to discover both API and UI flows that are being created within an organization. It is important to know that the analytics are not real time but are refreshed multiple times per day. In addition to the Power Platform Admin center, additional analytics are available from the Power Platform Center of Excellence (CoE) starter kit.
Was This Article Helpful?
---