Hybrid Integrations with Dynamics365
Hybrid Integrations with Dynamics365
---
Share feedback
Thanks for sharing your feedback!
Evolution of cloud platform solutions enterprises will move their IT towards it. The shift towards the cloud includes migrating and modernizing their applications and services such as on-premise Dynamics AX and CRM. Microsoft has Dynamics365 in various offering available in the Cloud. Hence enterprises can migrate their on-premise Dynamics to the Cloud or remodel their processes and data for instance in Dynamics365 Finance and Operations.
Introduction
With enterprises moving to the cloud, we as integration professional will face new challenges building new solutions feeding data in and out of Dynamics365 - a trend we will see more in 2019! Dynamics365 has many application offerings ranging from Sales to Business Central. With each of these applications, there will be some need for integration with other systems and services. Furthermore, some of these systems and services will still be on-premise.
Hybrid Integration with D365
Hybrid integration scenario's with Dynamics365 is not unthinkable - for instance a custom warehouse system or payroll system that will need to exchange data with Dynamics365 Finance and Operations. For such a scenario, you will need to get the data from these on-premise systems to Dynamics leveraging BizTalk Server, Service Bus Queues, and Logic Apps. Below you see a possible hybrid solution for synchronizing WareHouse Management and Payroll data towards Dynamics365 Finance and Operations.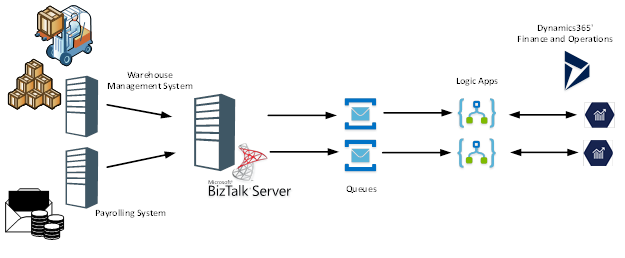 The above scenario is not uncommon today and feasible with the mature integration offering from Microsoft. Logic Apps progressed from visionaries to leaders in the Gartner Quadrant for Enterprise Integration Platform as a Service, and the Service Bus and BizTalk Server are reliable, proven services. Hence, it is not unlikely that these services will appear in a hybrid integration solution with Dynamics 365.
More hybrid integration and challenges
In 2019, we think the number of hybrid integration will increase given the scenario we just discussed. Enterprises with a cloud strategy and on-premise CRM, Dynamics or NAV will move to Dynamics365 given the benefits on the long term:
Less capital expense (no more license costs)
Less operational costs (no managing servers, patching)
Faster release cadence of new features and regular updates
Deep integration with Office365 and Azure
With these types of hybrid integration scenario, you will face some unique challenges with regards to monitoring, security, and volumes. Monitoring a hybrid solution will require some thought as you can roll your own or leverage a commercial offering like Atomic Scope. Furthermore, you will need to look into security when sending data in the cloud and be compliant to regulations such as GDPR. Lastly, data volumes will matter too as you need to size your Azure components and D365.
---
Was this article helpful?
---