Including Image in Email Body
---
#ServerlessTips - Power Automate
Sending an image as part of an email from Power Automate is a supported gesture, even if it isn't completely obvious. If you have been using Power Automate (or Microsoft Flow previously), there used to be a setting in the Office 365 Send Email action that would allow you to specify whether your email includes HTML. This behavior has changed and the setting is no longer available in the dropdown.
But, what you will discover is that you can provide a rich formatting experience when crafting an email without needing to know HTML. This works great until you go ahead and include HTML code within the Body textbox. When you embed HTML tags within the Body field they will get encoded and you will get an outcome that you are not expecting.
However, we are still able to embed HTML tags in our email body. We just need to enable the HTML editor by clicking on the </> button.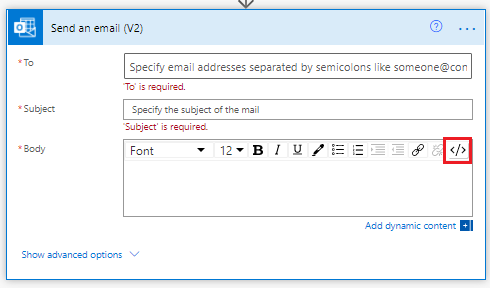 Once we are in this editor mode, we can go ahead and include HTML markup including an image.
Note: The URL that you include in the
tag must be available to the person that is opening it without authentication.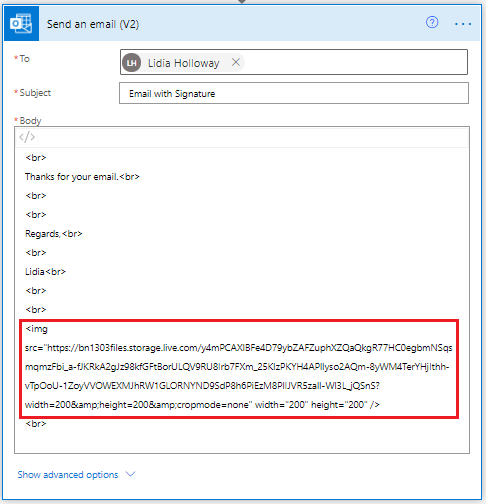 Testing
When we receive this email, we will now see our image being included in our email.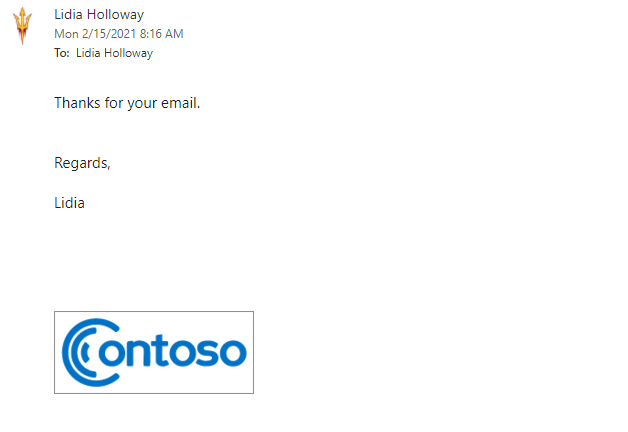 Conclusion
Providing a rich experience when sending email will improve your engagement rates. As we have discovered we can provide a rich experience that includes HTML tags, like images, but we just need to enable the HTML editor to do so.
---
Was this article helpful?
---
What's Next
---