Provision the right API Management Instance
---
#ServerlessTips - API Management
Azure API Management is an API-Gateway service on Microsoft's Azure Platform. You can use API Management to provide a Gateway to any service residing on-premise, in a container or cloud. It can help you securely expose your APIs to third parties, partners or internally.
With API Management, you can control the end-to-end management of APIs: provisioning user roles, creating usage plans and quotas, applying policies for transforming payloads, throttling, analytics, monitoring, and alerts. And the service is available in various tiers depending on the use-case ranging from a light-weight version to high volume enterprise production version.
The API Management pricing page will provide you with a good overview of all the available tiers. It is a significant page as it can help you decide which tier you want to provision in your organisation. A developer tier will make sense in a development environment in your organisation when you are designing and building API definitions. And a basic, standard, or premium for production depending on your use-case, i.e. workloads.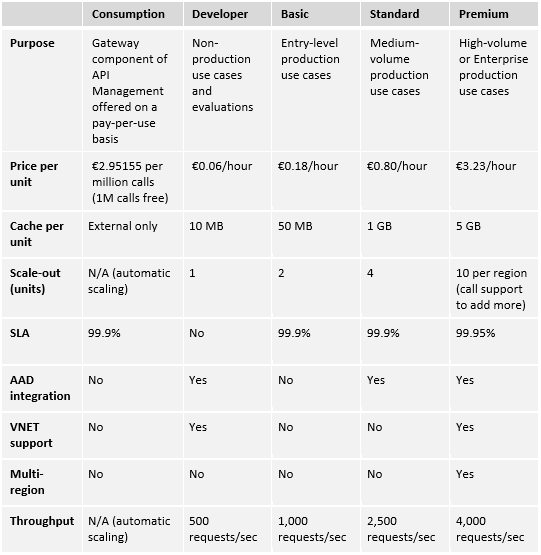 The above table (an excerpt from the pricing page) shows the essential characteristics of each API Management tier. In a large enterprise, the developer and premium tier show some feature parity with regards to VNET support and Azure Active Directory (AAD) integration – thus ideal for large enterprises. In the Microsoft docs you will also find a feature-based comparison of each tier.
The tip here is that you consider what each API Management tier offers and provision the correct instance using either the Azure Portal, Azure Command Line Interface (CLI), or PowerShell. Furthermore, you can use the pricing calculator to calculate the total cost of ownership (TCO) for your API Management instances, and additional support.
Was This Article Helpful?
---