What Connectors are my Users Using in Microsoft Flow
---
#ServerlessTips - Azure Logic Apps
Naturally a concern that many organizations have is what are users doing with Microsoft Flow and PowerApps? The concerns are usually grounded in two different situations:
Cyber Security Concerns – Are users exfiltrating corporate data from their home tenant and sending it to non-sanctioned services or tenants?
Organizational Change Management Opportunities – Do we have users that are creating flows that provide a lot of value to the organization? How can we identify those solutions/scenarios so we can share those assets/learnings with others?
We can address both of these concerns by using Power Platform Admin Analytics, which is available via the new Power Platform Admin Center. Within the Microsoft Flow analytics experience we will discover the Connectors tab. Within this tab we see all the connectors that are being used within our environment. There are two key dimensions that are captured within this experience:
Connectors by flow runs – What this means is that for each connector, how many flow runs has it been involved in. For example, we may have a flow that connects to SharePoint 4 times during each execution. But this metric only focuses on how many times that flow runs. Even though that flow will connect to SharePoint 4 times each time it runs, only the flow run will be captured/calculated.
Connectors by connector calls – This represents how many times a connector has been called, regardless of the amount of flow runs. So, if we use the previous example to describe this behavior, a flow that calls SharePoint 4 times each time it runs, will result in the number of times the connector is called, which in this case it will be 4.
As we can see in the following visualizations, certain connectors are more popular than others. If we discovered a connector(s), that we do not want our users using, we can now detect this and reach out to them since we have the Flow creator email available to us.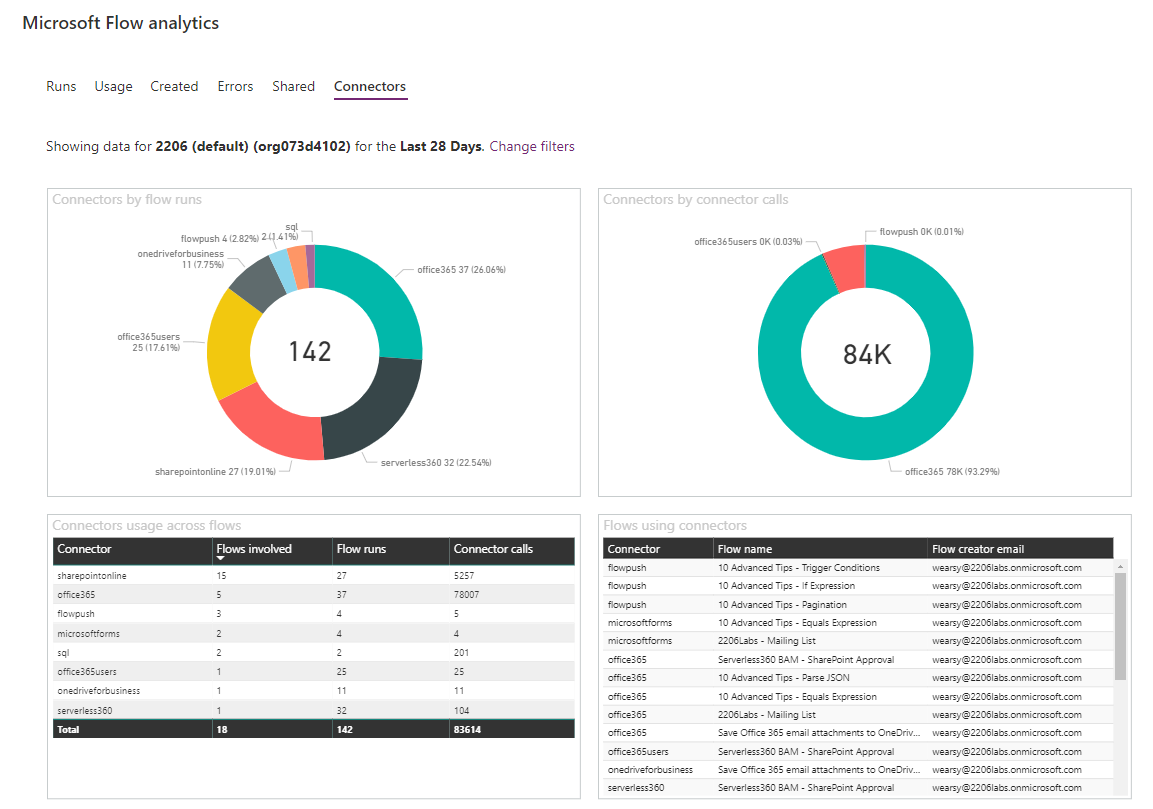 Conclusion
Using the Microsoft Power Platform Admin Analytics feature, and more specifically the Connectors data visualizations, allows us to understand what connectors are being used within our environments and provide us with visibility, regardless of whether that is for Cyber Security or Organizational Change Management reasons.
Was this article helpful?
---